Play guitar when you want, where you want, and how you want with Jam Sessions for DS.
| | |
| --- | --- |
| | by Andy Myers |
The phrase "playing DS" takes on a whole new meaning with Jam Sessions, a touch-screen guitar simulator from Ubisoft. We received a copy of the title at Nintendo Power recently, and within about 10 seconds of firing it up, we were hooked. Jam Sessions allows you to play guitar by simply strumming the touch screen and pressing buttons to change chords. It's surprisingly accurate and a lot of fun, whether you play guitar in real life or not.
But how do we prove this to our readers? Simple: we take Jam Sessions out of the office and into the real world to make some music. And since I'm the only guitar player in the bunch (unless you count Chris Hoffman's passionately strummed rendition of "Pizza Power" by the Teenage Mutant Ninja Turtles), I was the obvious choice to take on the project.
After spending about a week with Jam Sessions, I introduced the app into my band, Hidari Mae, for a real-life jam session. We wrote and recorded a song using only a drum set, a bass guitar, a synthesizer, and a DS equipped with Jam Sessions.
Click here
to download an MP3 of the song (called "Logical Conclusion"), and read "No Strings Attached" in Volume 117 of
Nintendo Power
for the full story. Download MP3:
"Logical Conclusion" by Hidari Mae
This song was written and recorded by Andy Myers (DS, vocals, synth), Eric Fisher (drums), and Jared McFarlane (bass). No actual guitars were used in the making of this recording.
Pokémon XD features Shadow Pokémon Return to Orre for a new role-playing game in an expansive setting with a sinister plot and characters the likes of which have never been met before.
With Eevee as your companion, you'll seek to unravel the mystery of Shadow Lugia. The fate and welfare of Pokémon lies in your ability to Snag and Purify them before it's too late! Experience intense 3D Pokémon action in a full-scale RPG! Snag and purify a wide variety of Shadow Pokémon! Unravel the mystery of Shadow Lugia and overthrow Cipher's evil plans. Master your two-on-two battle skills against Cipher's toughest goons. Import Pokémon from your GBA Pokémon games and watch them battle in full 3D. Pokémon XD (Extra Dimension) takes place five years after the events that transpired in Pokémon Colosseum. Controlling a young Pokémon Trainer named Michael, your objective is to thwart the evil plans of Cipher -- a ruthless organization bent on using Shadow Pokémon to take over the world.
Stakes are High Cipher makes Colosseum's Team Snagem look like a bunch of two-bit amateurs. This is made immediately clear during the game's opening sequence, when you witness Cipher's Shadow Lugia effortlessly pluck a massive cargo ship straight out of the ocean. Known as XD001, Shadow Lugia is Cipher's ultimate Shadow Pokémon. Cipher's goal is to create more Pokémon like Shadow Lugia to assist in their plot for world domination.
Shadow Pokémon Like Pokémon Colosseum, Pokémon XD features Shadow Pokémon that have been corrupted by evil Trainers. Shadow Pokémon can execute powerful Shadow moves, but they are unpredictable and will sometimes disobey commands. Michael uses an Aura Reader to identify Shadow Pokémon, and a newly-designed Snag Machine is used to swipe them from unsuspecting evil-doers. When you face a Shadow Pokémon, Michael's Aura Reader is activated and the Shadow Pokémon is identified. Weaken the opposing Shadow Pokémon, then use the Snag Machine to attempt to rescue it.
Purify Chamber
Shadow Pokémon must be purified before the doors to their hearts can be completely opened. Purification can be accomplished by keeping Shadow Pokémon in your party, or you can visit the all-new Purify Chamber to purify multiple Shadow Pokémon more quickly.
To use the Purify Chamber, you must first select a Pokémon to purify and place it in the center of one of nine "Sets." Next, you place regular Pokémon around the Shadow Pokémon to aid in the purification process. The process will go more or less quickly depending on the number and types of the regular Pokémon you select. Using the Purify Chamber, it's possible to quickly purify up to nine Shadow Pokémon simultaneously. This is a very handy tool, but you'll have to build up a collection of purified Pokémon before you can take full advantage of the Purify Chamber.
Eevee You'll begin Pokémon XD with Eevee as your companion. Early in your adventure, you'll meet a sailor who will offer to give you one of five items which aid in Eevee's evolution. Depending on which item you choose, Eevee can evolve into Vaporeon, Jolteon, Flareon, Espeon or Umbreon. Choose wisely!
Hi Mike, You successfully registered your Pokemon Emerald and your Nintendo DS. Whatever happened, you did successfully register them. So, there is nothing to worry about!;) Have fun!
Nintendo of America Inc.
Joel Nicholson Nintendo's home page:
http://www.nintendo.com/

Rowling with her last instalment, 'Harry Potter and the Order of the Phoenix' in 2003.

Half-Blood Prince, the penultimate episode of Rowling's wizards and witches chronicles, has also sparked a massive price war in the U.K. Some bookstores are offering activity- and prize-filled late-night launch parties,
The story begins when your character, a young aspiring Pokémon Trainer, moves to Littleroot Town. Crammed amid a truckload of boxes, our hero enters the foreign neighborhood eager to explore. Shortly into your journey a challenge arises and you must choose from three Pokémon -- Torchic, Mudkip or Treecko -- and begin a quest to become the world's best Pokémon Trainer.
During your quest you'll enter the Battle Frontier, where you'll need every bit of your strategy knowledge and cunning to win. Nintendo.com will provide more details on the new Battle Frontier and Pokémon Emerald as its May 1 release date draws near. Stay tuned for more information!
It takes brains to catch Pokemon and Nintendo Canada wants fans of the long-standing Japanese anime phenomenon to prove it. Coinciding with the launch of 'Pokemon Emerald' for the Game Boy Advance SP on May 1st, Nintendo is launching a 'Train Your Brain' contest in which Canadian students 16 years-old and younger are asked to submit five ways they are going to keep their brains fit this summer. Those who enter have a chance at being one of five winners of a Game Boy Advance SP and a copy of 'Pokemon Emerald'. Deadline for entries is May 29th. Unlike previous Pokemon games on the Game Boy system, 'Emerald' is primarily made for older and experienced players. 'Emerald' will carry on the storyline and theme of the 'Ruby' and 'Sapphire' releases in which baddies 'Team Magma' and 'Team Aqua' battle for control of the Hoenn region. 'Pokemon Emerald' also sports wireless multiplayer trading and battling with up to four players using a wireless adapter. While supplies last, purchasers of the 'Emerald' release will receive a guide book and trading/playing cards featuring 'Deoxys', the shape-changing Pokemon from outer space.
Neopia has been abuzz with all sorts of exciting news these past few weeks. We figured that now would be a good time to fill you in on what's been going on, along with mentioning a couple of things that lay on the horizon in weeks to come. World Challenges has launched! You can now earn items and Neopoints by testing your skills against those of other players. Can you get the most victories in an hour and win that tempting jackpot? There's only one way to find out!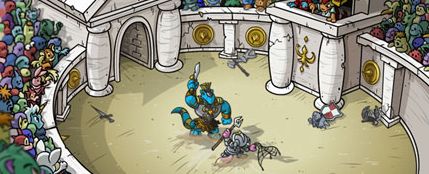 A couple of other big events will also be occurring some time in the next few weeks. Neopets and their owners can look forward to an entirely new paint brush, which will be camouflage-themed! Whether they need some help staying hidden, or are just seeking a cool new look altogether, your Neopets will want to stop by the Rainbow Pool and check out this new paint brush.
Would you also be interested in giving your Petpets a snazzy new look? There have been some whispers circulating about a hidden laboratory with a Petpet zapping ray. Rumour has it that this ray is capable of turning your Petpet into any possible colour, but you'll have to discover it for yourself to confirm the truth. As if that weren't enough, the Lost City of Geraptiku was recently opened to visitors! If you've ever wondered about the mysterious aura surrounding this place, why not come over and have a look for yourself? Are you adventurous enough to take a step inside this lost city of mystery?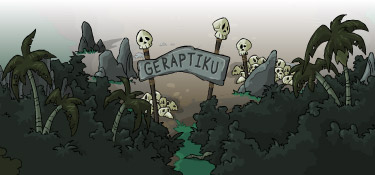 Since we last emailed, some of the biggest news stories have been:
· Maraqua Reopens - With the war now over, King Kelpbeard welcomes all Neopians to his watery domain. If you really love the sea, you can now make Maraqua your home!
· Neverending Boss Battle - All that stands between Dr. Sloth and control over Neopia is you! Can you thwart his attempts long enough to give Neopia a chance?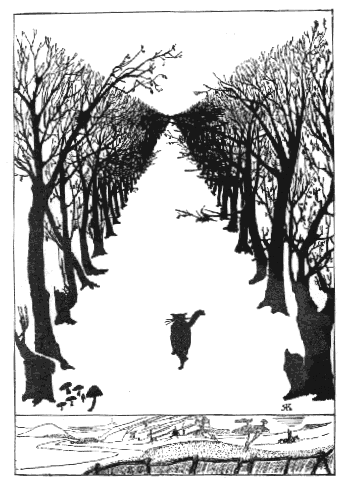 THIS is the picture of the Cat that Walked by Himself, walking by his wild lone through the Wet Wild Woods and waving his wild tail. There is nothing else in the picture except some toadstools. They had to grow there because the woods were so wet. The lumpy thing on the low branch isn't a bird. It is moss that grew there because the Wild Woods were so wet.
Underneath the truly picture is a picture of the cozy Cave that the Man and the Woman went to after the Baby came. It was their summer Cave, and they planted wheat in front of it. The Man is riding on the Horse to find the Cow and bring her back to the Cave to be milked. He is holding up his hand to call the Dog, who has swum across to the other side of the river. Cat walked through the Wet Wild Woods and hid very near the Cave till morning-time, and Man and Dog and Horse went hunting. The Woman was busy cooking that morning, and the Baby cried and interrupted. So she carried him outside the Cave and gave him a handful of pebbles to play with. But still the Baby cried. Then the Cat put out his paddy paw and patted the Baby on the cheek, and it cooed; and the Cat rubbed against its fat knees and tickled it under its fat chin with his tail. And the Baby laughed; and the Woman heard him and smiled. Then the Bat--the little upside-down bat--that hung in the mouth of the Cave said, 'O my Hostess and Wife of my Host and Mother of my Host's Son, a Wild Thing from the Wild Woods is most beautifully playing with your Baby.' 'A blessing on that Wild Thing whoever he may be,' said the Woman, straightening her back, 'for I was a busy woman this morning and he has done me a service.' Then he goes out to the Wet Wild Woods or up the Wet Wild Trees or on the Wet Wild Roofs, waving his wild tail and walking by his wild lone.
PUSSY can sit by the fire and sing,
Pussy can climb a tree,
Or play with a silly old cork and string
To'muse herself, not me.
But I like Binkie my dog, because
He knows how to behave;
So, Binkie's the same as the First Friend was,
And I am the Man in the Cave.


Pussy will play man-Friday till
It's time to wet her paw
And make her walk on the window-sill
(For the footprint Crusoe saw);
Then she fluffles her tail and mews,
And scratches and won't attend.
But Binkie will play whatever I choose,
And he is my true First Friend.


Pussy will rub my knees with her head
Pretending she loves me hard;
But the very minute I go to my bed
Pussy runs out in the yard,
And there she stays till the morning-light;
So I know it is only pretend;
But Binkie, he snores at my feet all night,
And he is my Firstest Friend!

Hi there, mgm75!
We just wanted to send a quick email to let you know what has been going on with Neopets lately. Lots of new great games and features have been added over the last couple of months, and more are on the way!


I can buy food! Anyway, thanks again for signing up and we hope to see you in Neopia soon! Yours Sincerely,
The Neopets Team

AVRIL
Hometown: Napanee, ON,



Avril Lavigne first appeared as a spunky teenager crafting surprisingly sharp alternative pop-rock that sounded great on the radio and fit very well in your CaseLogic (right between that Alanis Morissette stuff you'd gotten a little sick of and the Fiona Apple album you held so dear). She was one of many tender-aged smart-popsters who came up in the early 2000s, a group that included Michelle Branch, Norah Jones and Vanessa Carlton. She first hit with the acousti-groove of "Complicated," but it was the charging alt-rock of second single "Sk8er Boi" that showcased the range of Lavigne's impressive talents.
She released her second album,
Under My Skin
, in 2004, expanding upon her catalogue of sharp, smart radio tunes and leaving the teenager thing behind.
THE SITES WHERE LORD OF THE RINGS FILMING TOOK PLACE:MATAMATA
- Hobbiton
TONGARIRO NATIONAL PARK
- Mordor, Mt Doom
RANGITIKEI RIVER
- Anduin
OTAKI
- Hobbiton woods and roads
KAITOKE
- Rivendell
UPPER HUTT
- Isengard, Minas Tirith, Minas Mogul and Helm's Deep
WELLINGTON
- Bree, The Shire, Mines of Moria, Cirith Ungol, Weathertop hillside
TAKAKA HILL
- Chetwood Forest
MT OWEN
- Dimrill Dale
MT SUNDAY
- Edoras
SOUTHERN ALPS
- Misty Mountains
TWIZEL
- Pelennor Fields
ARROWTOWN
- Ford of Bruinen
GLENORCHY
- Lothlorien, Fangorn and Amon Hen
MAVORA LAKES
- Nen Hithoel
TE ANAU
- Dead Marshes
IDA VALLEY
- Plains of Rohan
A.A. Milne started to write a series of books about Winnie the Pooh, his son Christopher Robin, and their friends at 100-Aker-Wood. These other characters, such as Eeyore, Piglet, Tigger, Kanga and Roo were also based on stuffed animals belonging to Christopher Robin. Other characters as Rabbit and Owl were based on animals that lived, just like the swan Pooh, in the surrounding area of Milne's country home Cotchford Farm in Ashdown Forest, Sussex, on which 100-Aker-wood was based.
'Winnie-the-Pooh' was published by Methuen on October 14th, 1926, the verses 'Now We are Six' in 1927, and 'The House at Pooh Corner' in1928. All these books were illustrated in a beautiful way by E.H. Shepard, which made the books even more magical. The Pooh-books became firm favourites with old and young alike and have been translated into almost every known language. A conservative figure for the total sales of the four Methuen editions (including When We Were Very Young) up to the end of 1996 would be over 20 million copies. These figures do not include sales of the four books published by Dutton in Canada and the States, nor the foreign-language editions printed in more than 25 languages the world over!
The Pooh-books had also been favourites of Walt Disney's daughters and it inspired Disney to bring Pooh to film in 1966. In 1977 'the Many Adventures of Winnie the Pooh', the first feature-length animated film of Pooh was released. In 1993, the Walt Disney Company acknowledged that Pooh Bear is second only to Mickey Mouse in their portfolio of the most-loved and trusted characters known to millions of people all the world over. By 1996, after the second release of 'the Many Adventures of Winnie the Pooh', the Bear of Very Little Brain had proved to be more popular than any other Disney character. In 1997, thirty years after the release of 'the Many Adventures of Winnie the Pooh', Disney released 'Pooh's Grand Adventure', picking up where Disney's 22nd Masterpiece left off.
the 100 acre wood-the 100 acre wood the 100 acre wood the 100 acre wood the 100 acre wood

100 acre wood100 acre wood100 acre wood100 acre wood100 acre wood100 acre wood100 acre wood100 acre wood100 acre wood100 acre wood100 acre wood100 acre wood100 acre wood100 acre wood100 acre wood100 acre wood100 acre wood100 acre wood
100 acre wood100 acre wood100 acre wood100 acre wood100 acre wood100 acre wood100 acre wood100 acre wood100 acre wood100 acre wood100 acre wood100 acre wood100 acre wood100 acre wood100 acre wood100 acre wood100 acre wood100 acre wood100 acre wood100 acre wood100 acre wood100 acre wood
Buckingham Palace
They're changing guard at Buckingham Palace -
Christopher Robin went down with Alice.
Alice is marrying one of the guard.
"A soldier's life is terribly hard,"
Says Alice.
They're changing guard at Buckingham Palace -
Christopher Robin went down with Alice.
We saw a guard in a sentry-box.
"One of the sergeants looks after their socks,"
Says Alice.
They're changing guard at Buckingham Palace -
Christopher Robin went down with Alice.
We looked for the King but he never came.
"Well, God take care of him, all the same,"
Says Alice.
They're changing guard at Buckingham Palace -
Christopher Robin went down with Alice.
They've great big parties inside the grounds.
"I wouldn't be King for a hundred pounds,"
Says Alice.
They're changing guard at Buckingham Palace -
Christopher Robin went down with Alice.
A face looked out, but it wasn't the King's.
"He's much too busy a-signing things,"
Says Alice.
| | | |
| --- | --- | --- |
| | | A Milne reading A.A.Milne |
They're changing guard at Buckingham Palace -
Christopher Robin went down with Alice.
"Do you think the King knows all about me?"
"Sure to, dear, but it's time for tea,"
Says Alice
pokemon 4ever
& ever
As editor I have seen clips of this movie and for me it was awesome...
not for the faint of heart....don't eat right before the movie...POKEMON2005
MOVIEOFTHEYEAR!!!
his bit is just to embarress my kid, who wrote it.........
From a skale of 1-10 (1 hate it)
(10 i love it)
how much do you like playing pool?

Dragon Booster
Dragons are set to conquer the world again! Dragon Booster is a mythic good versus evil struggle in a timeless world where humans and dragons co-exist. Artha Penn is an ordinary teenager who is plunged into an incredible adventure when he is chosen to ride the dragon of legend. When teamed with his dragon, Beau, Artha is transformed into a mythical hero known as the Dragon Booster, a hero charged with the task of saving the world from an impending war and uniting human and dragons once and for all.

'Lord of the Rings' musical to premiere in Toronto A much-anticipated musical based on "The Lord of the Rings" will have its world premiere in Toronto next year, the show's producers announced Tuesday.
Dirty Harry debut for video game
Dirty Harry is one of Clint Eastwood's most famous roles
Actor Clint Eastwood is to reprise his most famous role - in a computer game version of Dirty Harry.
Eastwood, who starred as maverick cop Inspector Harry Callahan in the 1971 film, will lend his voice and likeness to the game.
The film made phrases "do you feel lucky?" and "go ahead punk, make my day" some of the most famous in cinema.
The Oscar-winning actor and director is also consulting on key creative aspects of the game's design.
'Compelling' stories
A. A. Milne and Winnie the Pooh